Lionel Messi (January 19, 2006)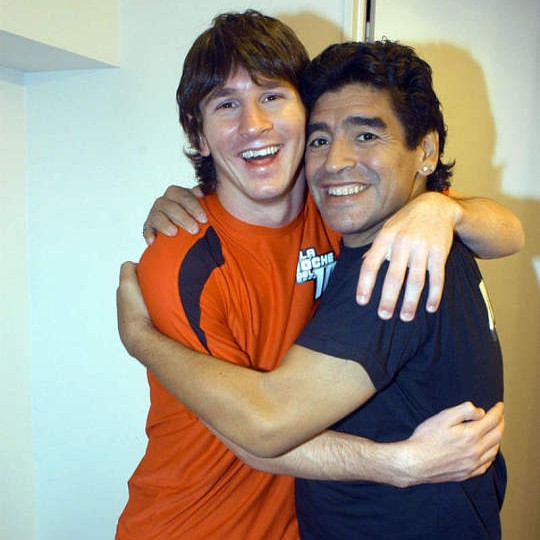 Another off the Argentine assembly line of "New Maradonas", Lionel Messi may be the first to live up to that unfair comparison. Where Javier Saviola, Juan Roman Riquelme and Pablo Aimar have unsurprisingly failed to match HIS high standards despite initial promise, Messi has shown that even at a young age he is able to carry the weight of expectant teammates and a nation on his shoulders.
Credit must also be given to his Barcelona coach Frank Rijkaard for not rushing him into a starting place at Barcelona he is more than ready to hold.
"It is clear Messi is a talent, a future player, but I ask that everyone continues supporting him when he is out of the team because he is still very young." Rijkaard said in a recent interview. He continued:
Career Highlights

June 24, 1987
Born in Rosario, Argentina

2000
Lionel and his family move to Spain to help treat his hormonal growth deficiency

Signs for Barcelona at the age of 13

October 16, 2004
Makes his Barcelona first tem debut against RCD Espanyol

May 1 2005
Becomes the youngest league scorer in Barcelona's history against Albacete when he scored his first goal at 17 years, ten months and seven days

June 2005
Helps the Argentina Under 20 team win the FIFA World Youth Championship scoring two goals against Nigeria in the Final

June 27, 2005
Renews his contract with Barcelona until 2010 with a €150 million buy-out clause

August 4, 2005
Receives his first call up to the Argentine national team

September 25, 2005
Obtains Spanish citizenship allowing him to play more games for Barcelona no longer being restricted by the non-EU player quota
"I'm convinced about him because I know he isn't paying attention to all the speculation in the media."He prefers to do his talking on the pitch."
In fact his three goals and one assist in nine league starts for Barcelona this season to add to his goal and assist in the UEFA Champions League back up his coaches claim, and at 18 years young we are only just starting to see glimpses of his enormous potential. Messi states:
"I want to keep on learning and I hope things go well for me. The thing is to help the team as much as possible."
These are the words of a young man with a focused head on his shoulders and more importantly good advisors around him. How many times have we seen the vultures swoop in on young prodigies sweet talking them and their parents into committing career suicide by sulking and demanding more playing time only to become no more than a trivia question five years down the road.
With the World Cup in Germany swiftly approaching Lionel Messi will definitely be one to watch if selected for national duty.
Enrique Domínguez, Messi's former coach said "He could do things with the ball that defied the laws of physics. The only other person I have ever seen do that was Diego Maradona".
Let us all recall that Maradona himself did not come into his own until the 1986 World Cup in Mexico despite being tipped for great things in Spain four years prior. That World Cup was a general disappointment for Maradona as well as Argentina. Messi will be three years younger than Maradona was in his first World Cup appearance and it is important that we all allow Lionel to continue developing at his current pace without placing on him too much pressure for a teenager to handle. For his part Messi must maintain his enthusiasm and work ethic that has so far impressed his coaches and peers. If he can do that then the sky is indeed his limit.